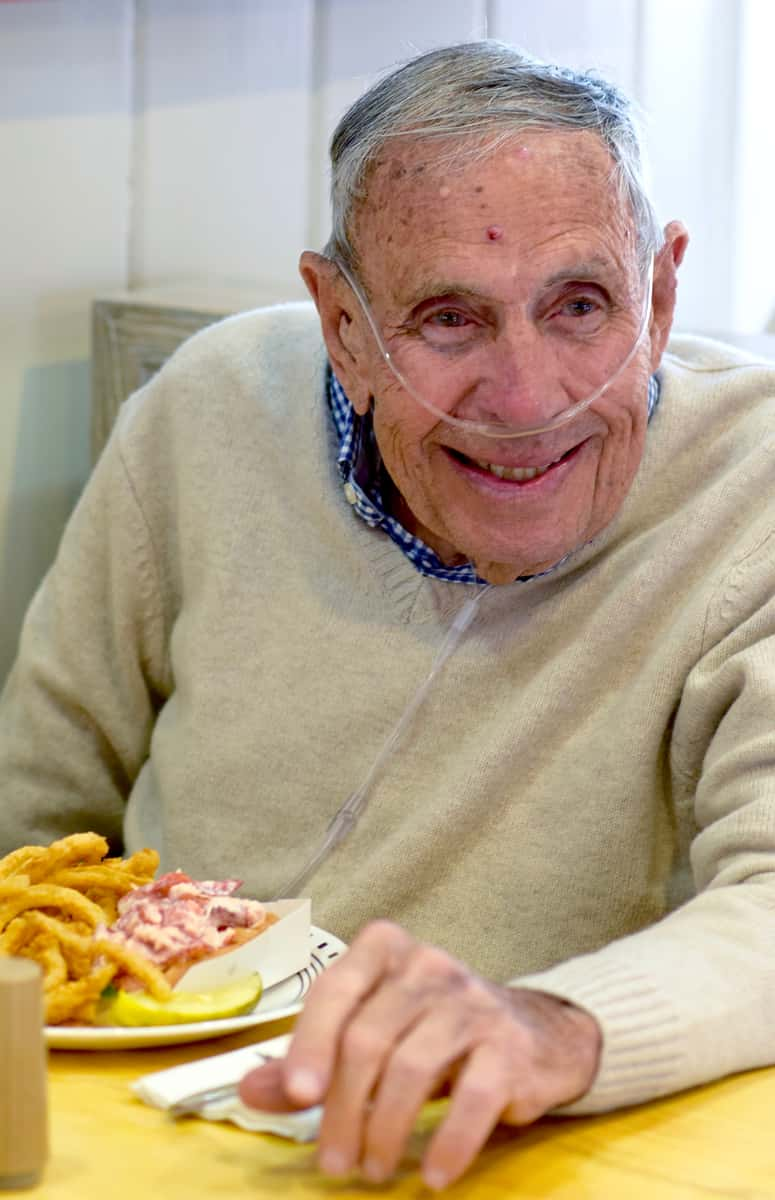 People of Sam's: Barney 'Papa' Shine
People of Sam's: Barney 'Papa' Shine
Name: Barney Shine, a.k.a. "Papa"
Dish(es) of choice: Fried whole clam and lobster combo;

lobster roll; clam chowder
Bernard "Barney" Shine sat in a crowded dining room on Tuesday evening with his daughter and son-in-law, Kathleen and Neal, taking in the upbeat atmosphere at Seafood Sam's. Now almost 90 years old, Barney—a regular customer known affectionately as "Papa" by restaurant staff—has been doing just this since the Sandwich restaurant opened over 30 years ago. Formerly of Williamstown, Massachusetts, Papa used to dine at Sam's during visits with family on the Cape. Now a year-round Sandwich resident, he enjoys more frequent visits to his favorite restaurant—and when Sam's closes in November, he keeps a daily countdown to opening day.
Papa knows a thing or two about business: 35 years ago, he started a wire-and-cable company in North Adams, Shine Wire, which was recently named the 2018 Massachusetts Manufacturer of the Year. "One of the most important things in any business is the people," he said, and that's what he appreciates about Sam's. Whenever he comes in, the workers take time to say hello and speak with him. "The people that work here are very good."
Over time, some things have changed at the local dining spot. Certain dishes have come and gone, as have some of the faces behind the counter; dining furniture has been updated; and disposable plates have been replaced with real dishware. But for Papa, the most important things have stayed the same: Sam's is still a family restaurant on the Cape Cod Canal. Papa loves to watch the boats go by outside, and inside, he's always happy to see kids enjoying a night out with their families. While talking, he gets distracted by a family with a baby and smiles. "I don't think that will ever change. The plain fact that it's a family restaurant… it's really something."